WordPress for Dummies 1 – Logging In
After building quite a lot of WordPress sites for clients (I'll make an official tally soon), I've also spent many hours in basic hands-on training to help clients become familiar and comfortable in controlling their new powerful & smashingly well designed website. While this is always a fun part of the job, time can begin to add up and if the client can't take notes or has to ask again later on for a 'refresher' the fun can slowly become a dull ache.
So the logical next step was to create a series of simple tutorials which cover WordPress basics for the new user (unfortunately called a Dummy).  So I'm proud to begin this series that will help many of my clients and hopefully other bold new WordPress users who find their way to Think Up! Design via the intraweb.
Please feel free to leave a comment if this was helpful, or maybe a suggestion if you feel something was left out.
Thanks for stopping by!
Ok, so the website is up?  What do I do now?
This basic WordPress tutorial is to help people take their very first steps with their new Website.  After watching this brief tutorial you'll be ready to sit in the comfy chair of your very own Website Control HQ.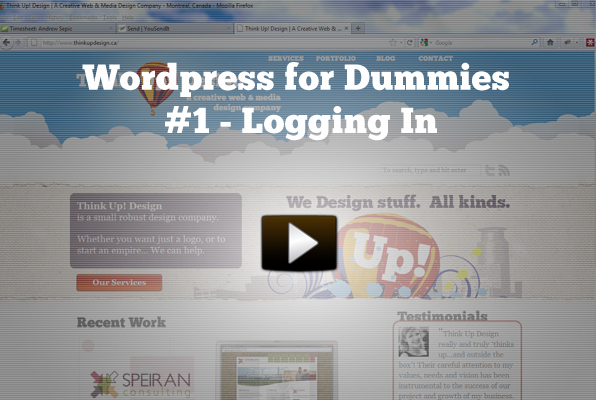 4 Comments